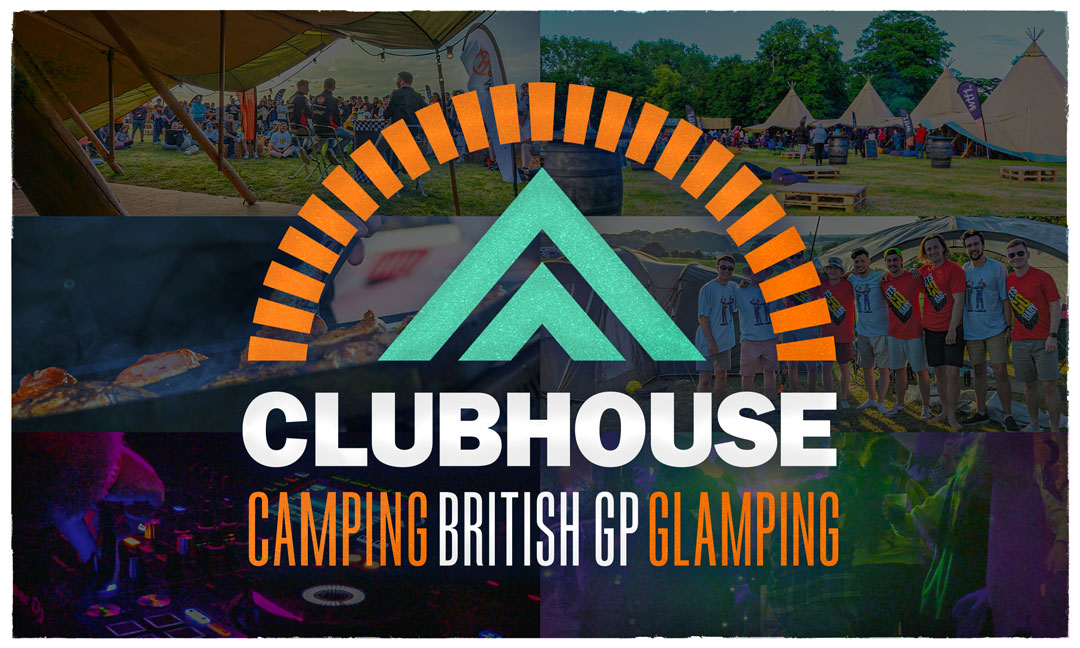 Thursday 4th July – Monday 8th July 2024
Join Clubhouse for a fan experience like no other.
Book your place at Clubhouse to enjoy a Platinum Campsite Experience for the 2024 British GP.
Choose from the options below and join us for 4 nights at Silverstone for the 2024 British Grand Prix.
Remember, you will need to buy your Grand Prix tickets separately from the Silverstone website.
For more information on booking your stay please email [email protected]
WHY CHOOSE CLUBHOUSE
Enjoy loads of on-site entertainment
Participate in live events and enjoy entertainment including DJ sets each night, quizzes with fab prizes to be won and sim racing competitions
Only 15 mins walk
to the track
We are located on the grounds of Whittlebury Park, which is a great place to spot the multiple F1 drivers and teams who stay at the hotel
You don't need a GP ticket
to join Clubhouse
You can enjoy the atmosphere of an F1 weekend without a ticket by hanging out at Clubhouse, taking full advantage of our top-quality food and licensed bar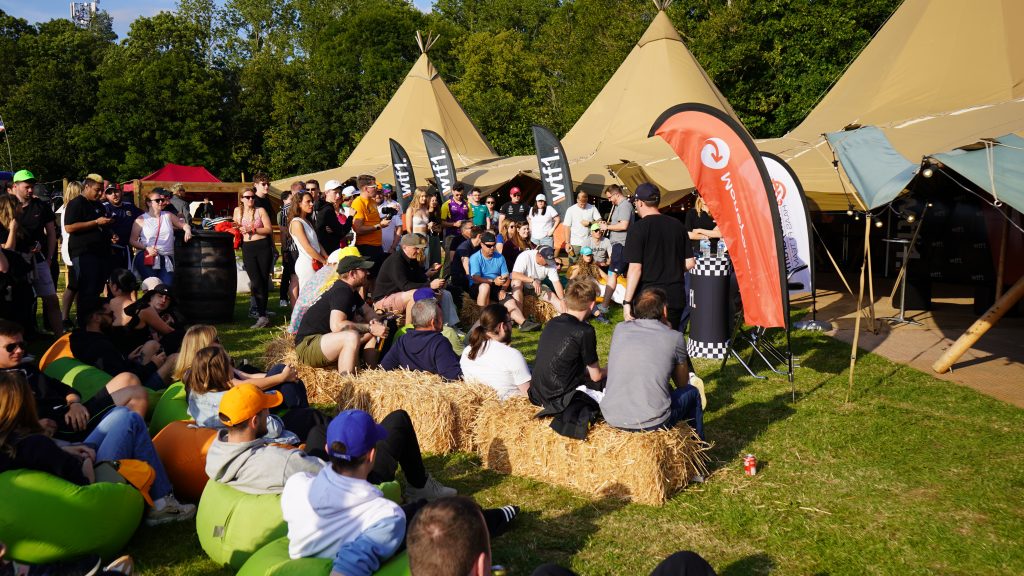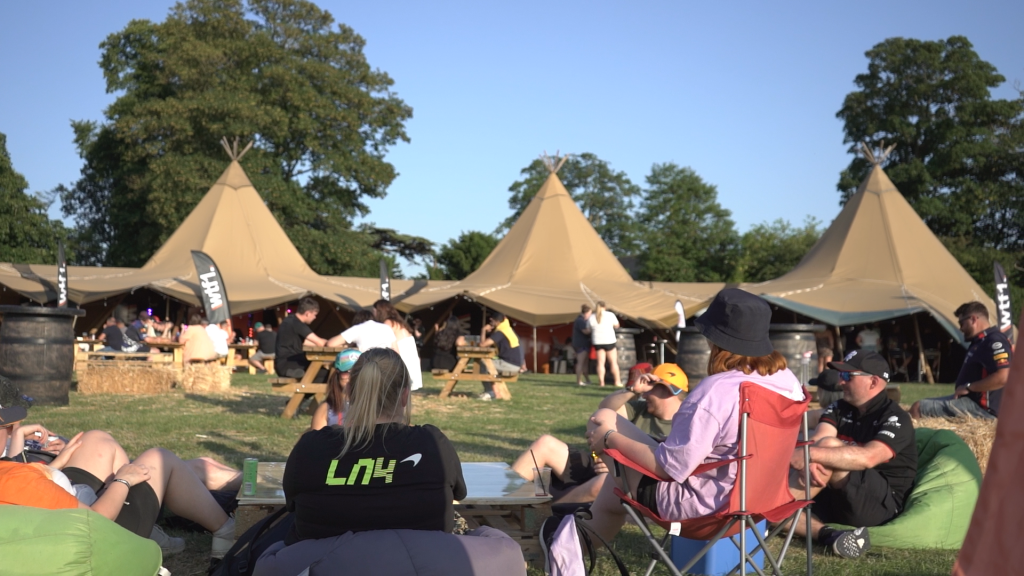 Clubhouse is part of a Platinum Award Campsite
Based at Whittlebury Park, a Platinum Award Campsite, given by the Silverstone Interagency Campsites Subgroup
GLAMPING & CAMPING PACKAGES
Glamping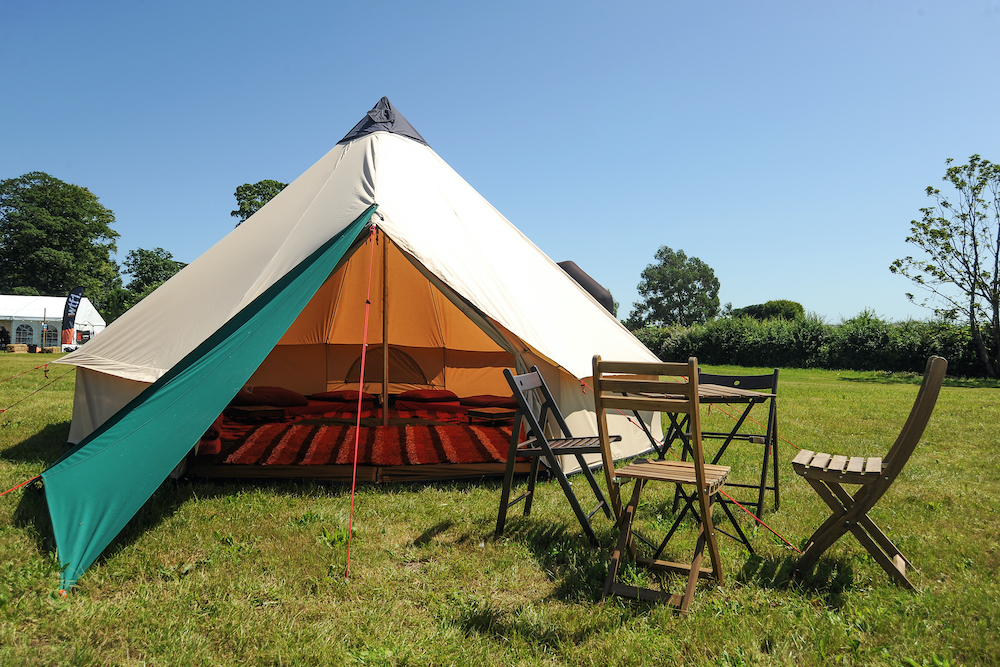 2/4 person Bell tents
Parking space, single foam mattresses with sheets, duvet, pillows and duvet sets (all bedding), wooden patio table and chairs, bedside table, fully carpeted tent, battery-operated light.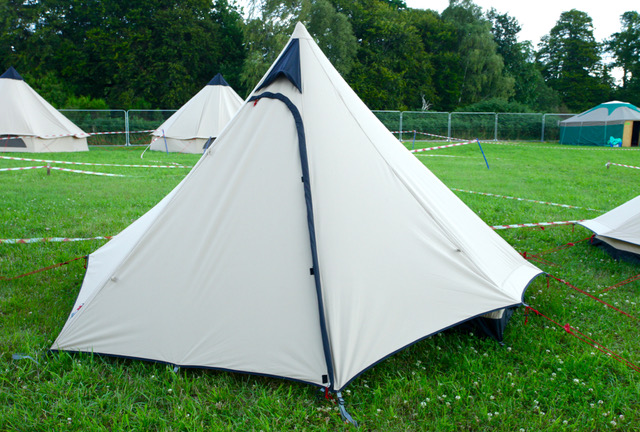 2 person Mini Bell tents
Parking space, single foam mattresses with sheets, duvet, pillows and duvet sets (all bedding).
This tent does NOT include chairs, tables, or towels.
Cabins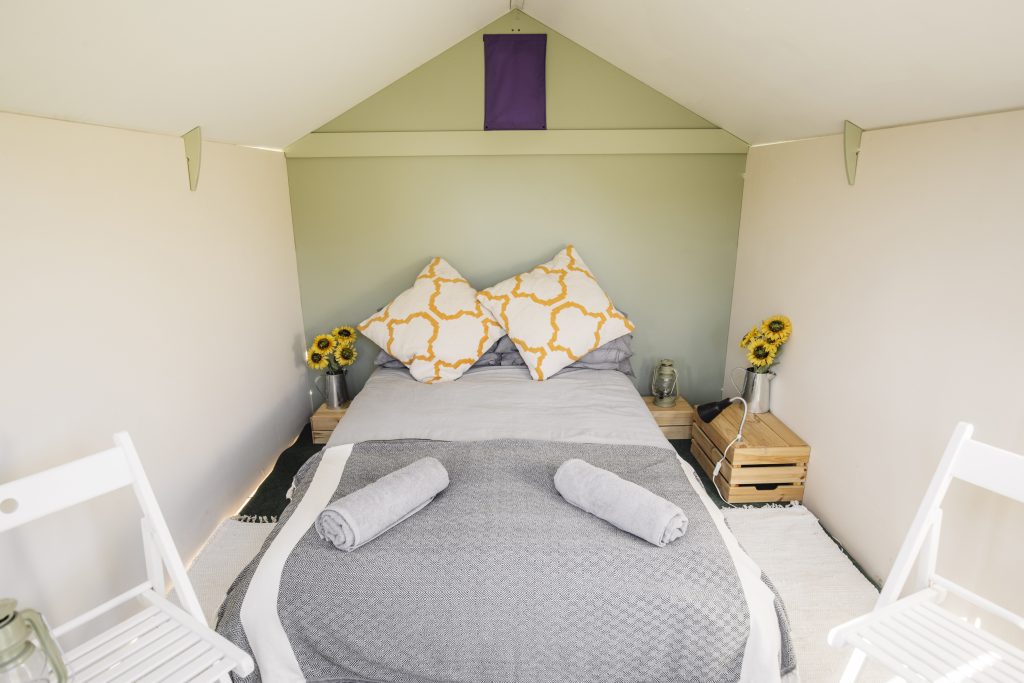 2-person lockable cabin
Breakfast included
Transfer to circuit (at specific times)
Parking space
Solid wooden bed with mattresses, sheet, duvet, high-grade pillows and blanket and towels.
Lockable door, wooden floor and carpet, coat hooks, hanging shelves, 240v electricity and spot lights
The mains power inside your cabin may not be on at all times of the day.
Pre-Pitched Camping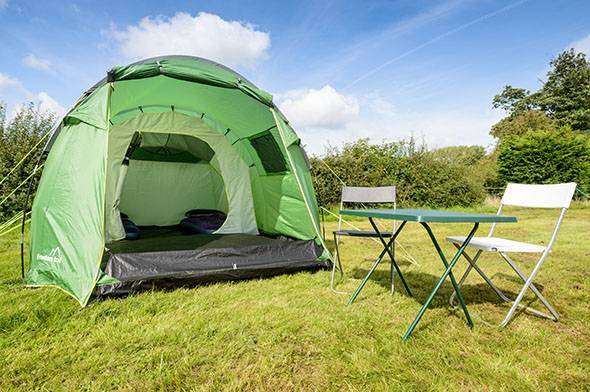 2/4/8 person standard tents
Parking space, mattresses, patio table and chairs. This tent does NOT include towels or bedding.
INCLUDED WITH EVERY PITCH
PARKING
One vehicle included per camping pitch
CHARGING POINTS
Free so your mobile never runs out of juice
SHOWERS & WCs
Cleaned twice a day with hot water & flushing toilets
UP TO 4 NIGHTS
Thu | Fri | Sat | Sun nights included as standard
24HR SECURITY
Our friendly staff on site 24 hours ready to help you
GALLERY
OUR RATES
| | | | |
| --- | --- | --- | --- |
| Option | Sleeps | Style | Price |
| Pitch your own tent: 7x8m (ideal for 8 man tent) | 8 max | Plain pitch only | £399 |
| Small Pre-pitched camping | 2 | Standard tent | £699 |
| Medium Pre-pitched camping | 4 | Standard tent | £999 |
| Large Pre-pitched camping | 8 | Standard tent | £1,499 |
| Mini glamping | 2 | Bell tent | £899 |
| Medium glamping | 2 | Bell tent | £999 |
| Large glamping | 4 | Bell tent | £1,499 |
| Cabin | 2 | Wooden cabin | £1,499 |
All prices above based on 4 nights stay. More details on what's included in each accommodation type below.
Cancellation policy and booking terms

.
FREQUENTLY ASKED QUESTIONS
If you have a question or query that isn't answered here, please feel free to get in touch at

[email protected]
Who manages the booking?
We have an online booking form for you to make your booking, our payments are processed through Stripe.
I am having log-in issues with my Team WTF1 account, what do I do?
If you have only just made an account for Team WTF1 sometimes the payment can take up 48 hours to go through fully. If you are still having issues email us at [email protected] and we will help you out.
Is there electricity on the pitches?
No there is not an electricity hookup on our camping pitches but we will have a limited amount of phone charging stations on site.
Do I need a Grand Prix ticket to come to the Clubhouse?
No you don't, you can come and enjoy the Clubhouse and glamping for the weekend without Silverstone tickets but you won't be able to get into the circuit.
If I place a booking with you, what happens next?
You will receive an automated email receipt immediately afterwards showing details of your booking. About one week before you are set to arrive we will send you an email containing info such as contact phone numbers, maps, general info etc. Of course, if you have any questions at all at any time then do not hesitate to contact us. We are here to help.
Are pre-pitched tent / plot prices dependent on the number of campers?
No. The price of each pre-pitched tent / plot is fixed irrespective of how full it is. Only the person who makes the booking needs to be the Team WTF1 member.
Which nights does my booking include?
Your booking includes four nights: Thursday/Friday/Saturday/Sunday but you are not obligated to stay for all four of those nights.
Will I be able to park my car next to my tent?
Yes. The only reason that this might not happen is if the ground is very muddy then we may have to have the vehicles in a separate parking area to stop the ground being churned up. You are only able to park one car next to your pitch, any extra cars that you book in will be in our overflow car park which is very close.
When can we arrive at your campsite?
Our check-in will be on the Thursday, we will send you more details on timings and directions closer to the time.
Will there be food and drink?
Yes, we will be selling food for breakfast and dinner in the WTF1 Clubhouse, and there will also be a full liscensed bar.
How far is the camping to the circuit?
It is a 15-20 minute walk at a leisurely pace.
Is the cost of circuit entrance included?
No. The things included in our price to you are your tent/pitch fee and your parking fee.
Are there age restrictions?
For the Clubhouse and camping, you must be 18+ unless accompanied by an adult.
Platinum rated campsite
The WTF1 Clubhouse campsite is based at Whittlebury which is a Platinum Award Standard in Silverstone's Campsite Ratings, the highest rating a campsite can be given by the Silverstone Interagency Campsites Subgroup. The group is made of various members including the Council, Police and Fire & Rescue services, all of which meet on a regular basis to ensure campsites comply with various requirements and standards set by the group.
The 'Platinum' rating is reserved for those campsites that not only meet all the health, safety and welfare standards, but also go above and beyond the minimum requirements to ensure that their customers have the best possible campsite experience.
Campsites achieving the platinum rating will have stewards, excellent security, and first aid provision, there will be procedures in place to ensure that all campsite facilities are kept clean and functioning throughout the event and the campsite operators will have implemented their fire, health and safety and drinking water plans to a demonstrably high standard.