We need a nap. That was definitely something. The Las Vegas GP was promised to be one of the biggest events of the year, and it was certainly highly anticipated through endless promotions over the past year. Everyone was eager to see how it unfolded, but everything didn't go as planned. 
In case you've missed today, here's a rundown of everything that has happened. Buckle in, you're in for a bumpy ride. Literally.
WATER VALVE COVER ENDS FP1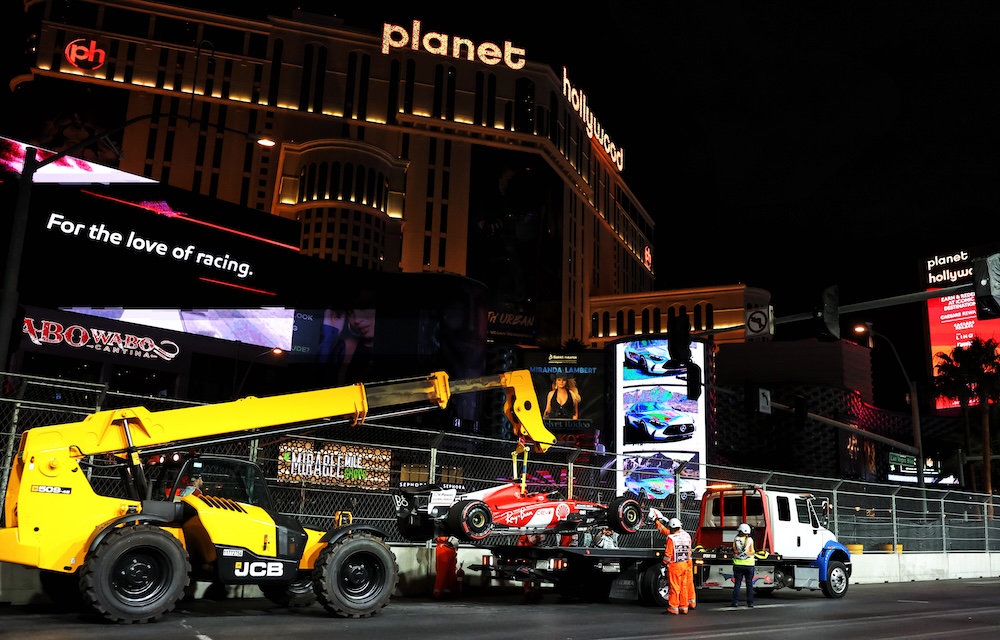 Yep, you read that right. After just 8 minutes on the track for the first time, Carlos Sainz fell victim to the wrath of a failed water valve cover. On first viewing, it looked as though the Ferrari driver had bottomed out against something, which killed his engine. He stopped on track at the final sector, and a red flag was thrown.
Replays showed that he had most definitely struck something, which caused significant damage to his car. The FIA said they were investigating "an issue with a drain cover" and announced the session would not be resumed. It was later confirmed to be a loose water valve cover that caused the damage.
Esteban Ocon also had to change his chassis due to damage, with Carlos' car needing a new monocoque, engine and battery. Both of them managed to get back on track for FP2, but the stewards confirmed that Ferrari would not be granted dispensation for a force majeure use of an additional power unit element on Sainz's car.
A 10-place grid penalty has been assessed as a result.
DELAYS, DELAYS AND MORE DELAYS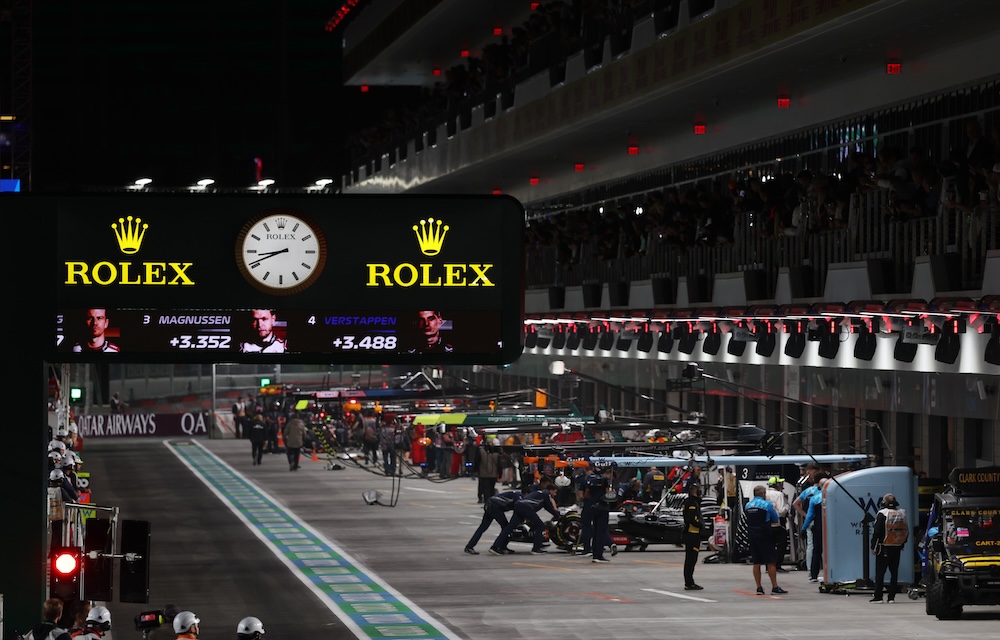 After the cancellation of FP1 and an inspection of the track, the FIA confirmed that the start of FP2 (due to begin at midnight local time) would be delayed – but at first, no more information was given.
Then, it was announced that the session would commence at 2:00am (local time) and be extended t0 90 minutes – meaning it would start after a two-hour delay to complete the necessary engineering work.
Then, at 1:50am, they added another 15 minutes on top of that. And then again, the final update was issued that FP2 would start at 02:30am. Finally.
Except, the decision did receive some backlash from F1 fans insisting that it was far too late for drivers (who have already complained about being extremely jet-lagged), teams and personnel at the track to operate safely – on top of potentially tricky track conditions. Which leads us to…
FANS BEING KICKED OUT OF THE CIRCUIT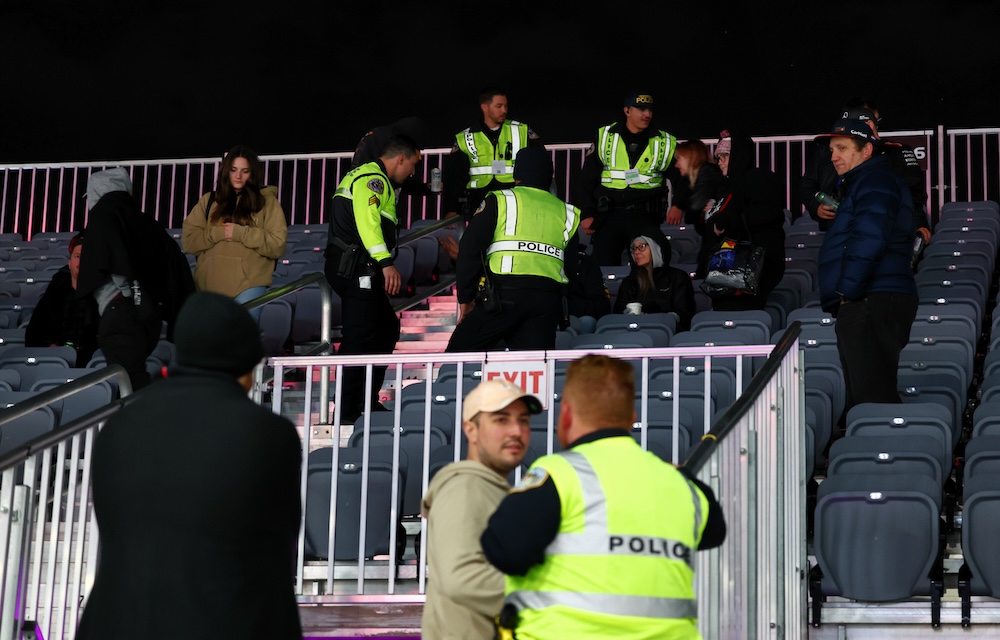 F1 fans attending the grand prix were removed from all fan areas, including grandstands, ahead of the delayed FP2 session. Yeah.
A deleted statement released on the Vegas GP's social media platforms read: "Due to logistical considerations for our fans and our staff, we have made the determination that we will be closing all Las Vegas Grand Prix fan areas at 1:30am. We look forward to welcoming fans back later today for exciting FP3 and qualifying sessions."
It is understood that it was mostly down to staffing, ad grandstands and fan zones could not operate as expected. We do hope that those fans (who paid a lot of money to be there) get some sort of compensation for missing an entire day of running.
BUT FINALLY…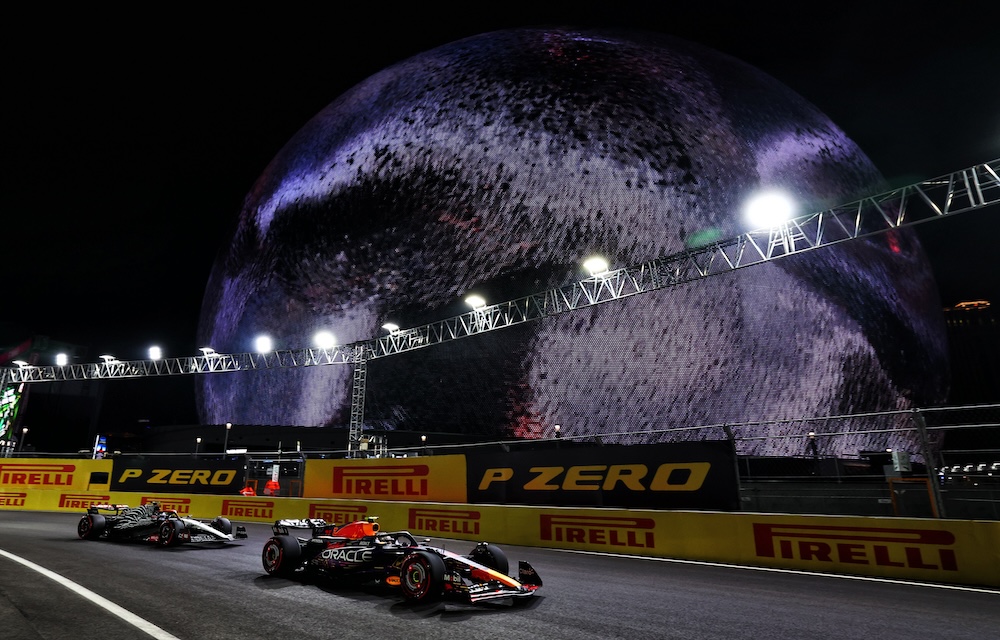 There is some good news! We did get successful running when FP2 did get underway, with Charles Leclerc leading a Ferrari 1-2. Admittedly, it was more Spin City than Sin City as several drivers explored the run-off areas, particularly at Turn 12.
Fingers crossed for a successful FP3 and Qualifying!