We've got to hand it to Monza, the Italian GP was actually quite entertaining. It wasn't short of racing action, and with that comes someone who takes battling a bit too far. Lewis Hamilton was hit with a five-second penalty during the race for causing a collision with Oscar Piastri. 
Hamilton was trying to make his way through the field after a disappointing qualifying on Saturday when he moved alongside Piastri just after Curva Grande. The pair locked wheels, sending both drivers into the escape road at the Variante della Roggia Chicane.
The impact caused damage to Oscar's McLaren, and he was forced to pit for a new front wing – ultimately ruining his race.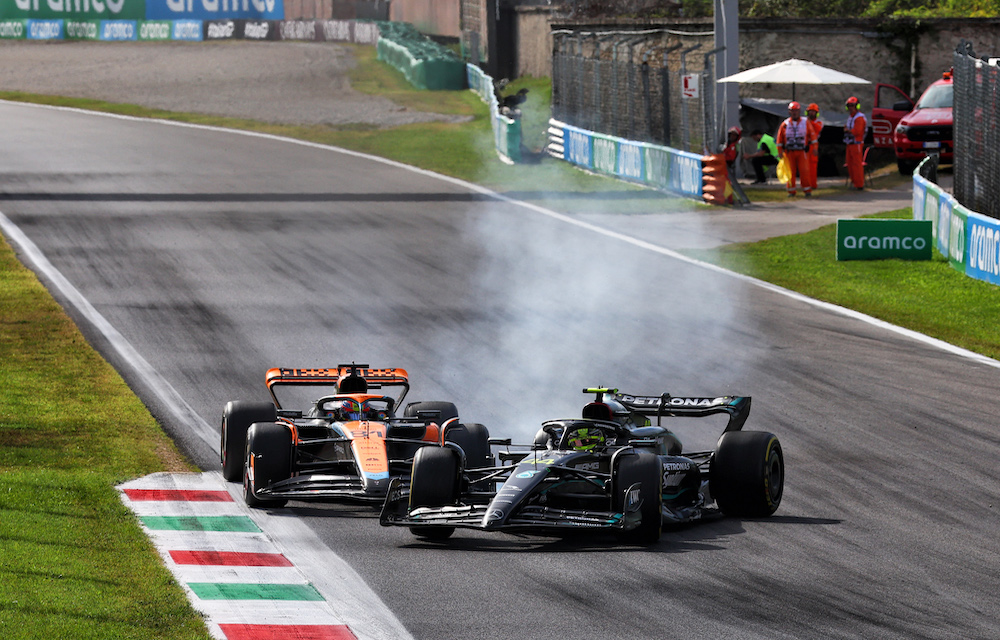 The stewards noted the collision and punished Hamilton with a five-second time penalty for when he crossed the finish line. However, Lewis came alive in the final laps of the race and managed to get by Lando Norris and Alex Albon for P6, leaving a seven-second gap between him and Alex.
Therefore, he kept his place despite the penalty.
Whilst Hamilton admitted to Sky Sports F1, "It was totally my fault, and I went and apologised to him", it seems to have opened up a debate on whether the penalty was justified and whether it was enough, considering he had ruined Oscar's race.
So hamilton takes his opponent out and gets a slap on the hand. 5 sec penalty is a joke

— Naman¹ (@jameshunt_33) September 3, 2023
Not sure why the stewards gave Lewis a Pen for that…

It's his fault, but if you're going to hand out a Penalty for that then it's gotta be the same for everyone. Luckily it didn't affect his race.

— 𝙏𝙤𝙢 (@Tom97HD) September 3, 2023
OF COURSE THEY GAVE HAMILTON A PENALTY. I HATE IT HERE. #ItalianGP

— Kelechi (@kelechnekoff) September 3, 2023
Maybe it's time to review how penalties are given out. A 5 second penalty didn't do any damage to Hamilton for a collision that ruined Piastri's race #F1 #ItalianGP

— Shobhit Kumar (@shobhitkumar__) September 3, 2023
F1 needs position penalties. Time penalties are so useless to front running cars. Drivers (Hamilton) can take people out and ruin their race and get a useless time penalty. An example being silverstone where he gained 25 points on his rival he took out

— Car 😮 TP TITLE LEAD!! (@CarGoVroomFast) September 3, 2023
I'll explain why I don't think Lewis deserved a penalty:

The rules state that penalties should be applied for the action, not the consequences of the action.

All 4 images below show the same action – one driver squeezing another.

Only Lewis/Piastri resulted in a collision, and… pic.twitter.com/MIUkckE4iz

— Mercedes-AMG F1 News (@MercedesNewsUK) September 3, 2023
Interesting penalty since Hamilton did nothing wrong?

— Brian (@BraaainGOAT) September 3, 2023
Hamilton gets a 5s penalty for causing an accident that costs Piastri 25s. F1 penalties don't fit the crime. #ItalianGP

— Mark Pascoe (@MarkPascoe351) September 3, 2023
Or, is there a counter-argument where the penalty was justified and fairly given, it's just that Lewis went into full Crocs speed mode when he knew he was handed a penalty? 😅
Hamilton when Bono informed he got a 5s penalty pic.twitter.com/NUvZdThDKE

— Mercedes.F1Motorsports (@MF1motorsports) September 3, 2023
Which side of this fence do you sit on? Let us know in the comments!