After a chaotic race start heading into turn 1, everyone seemed to settle into their positions despite the obviously tricky conditions on the track. But then suddenly, on lap three of the Las Vegas GP, Lando Norris went spinning into the wall. 
It seemed as though his McLaren got a little out of shape, and despite his best efforts to catch it, a spin into the wall sent him sliding down an escape road and crashing into the barrier.
It was a huge shunt, and videos on social media show him struggling to catch his breath whilst trying to tell the team that he was okay.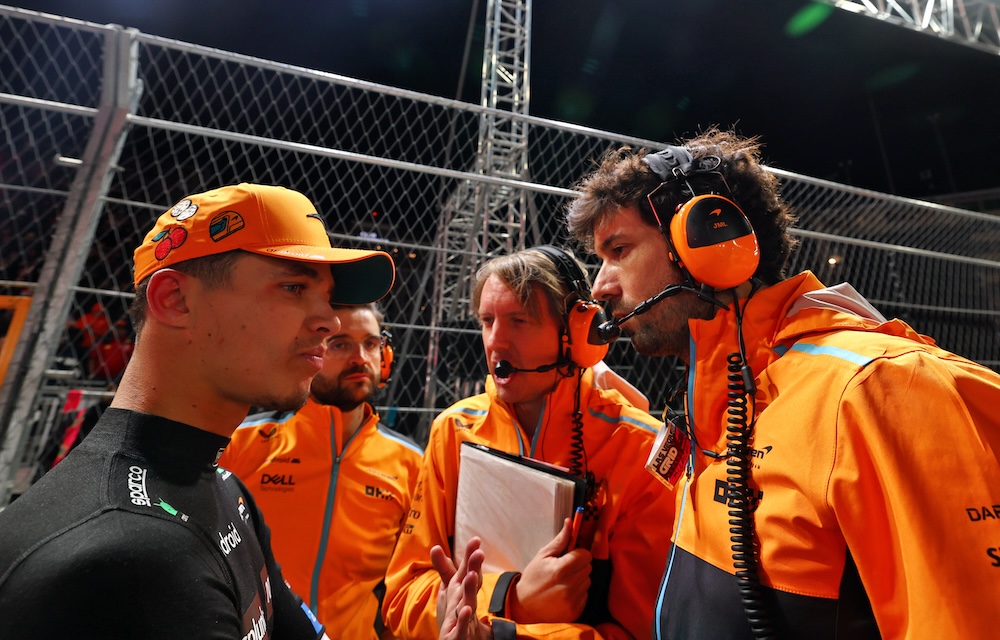 He extracted himself from the car, but after an initial assessment at the circuit medical centre, McLaren said he was taken to University Medical Center to undergo precautionary medical checks.
Thankfully, McLaren team principal Andrea Stella has confirmed to the media, including The Race, that Lando has since been discharged and has returned to the paddock. He said: "All checks are negative, as you say. So good news on Lando's side."
Initially, it seemed as though Lando's McLaren had snapped under the cold temperatures with drivers struggling to gather heat into their tyres, but Andrea said that although that was a factor, he did, in fact, hit a bump.
"Just came off the line. There's a bump in the place. There's a bump, and you can see all kinds of sparkle when they go through this bump, and I think the combination of the bump and the cold tyres might have surprised him.
Returning to the team. 👊🧡 @LandoNorris #LasVegasGP 🇺🇸 pic.twitter.com/1e5G3cDf83

— McLaren (@McLarenF1) November 19, 2023
"Otherwise, we don't see any issue with the car or of a different nature."
When asked if it should be looked at further for next year, he replied: "I think that if we carry on racing at night time, it should be fixed because the tyres will always be cold, low grip, and it becomes a very tricky corner.
"Already during the weekend, we saw cases in which there was oversteer in that place. So, we would strongly recommend that this bump is smoothened out."
We're just glad to hear that Lando is okay!