Have you ever wondered how you make a slippery track even more slippery? Just ask the Las Vegas GP, which had to deal with an unprecedented situation before the race had even started! 😅
Two classic cars that were meant to drive Lewis Hamilton and Oscar Piastri around for the drivers' parade broke down on the start/finish straight and leaked oil all over the left-hand side of the grid about 90 minutes before the race was due to begin.
Large patches of cement dust were put down in the hope of soaking up the spillage, which made an already dirty and slippery track even more dirty and slippery!
Here is video of the parade car that dropped all the oil on the track tonight pic.twitter.com/S448AZw9ln

— David Hill (@davehill77) November 19, 2023
The start of the race offered a chaotic turn 1, something that had been predicted by fans leading up to the weekend, but Carlos Sainz reckons the dirty track was actually the primary factor in why both he and Fernando Alonso went spinning.
"The start was extremely tricky, with the inside of the track being very dirty, from oil that there was, or something, cold tyres, a lot of dirty air also," he said.
"I saw a lot of oil from the cars that we used to do the drivers' parade, which is another thing for the FIA to look at, because I think that it's not fair, all the oil was on the inside line.
"Apart from the dirty track already being there, in front of all that we put cars that are leaking oil into the track one hour before the race. It is, again, unacceptable.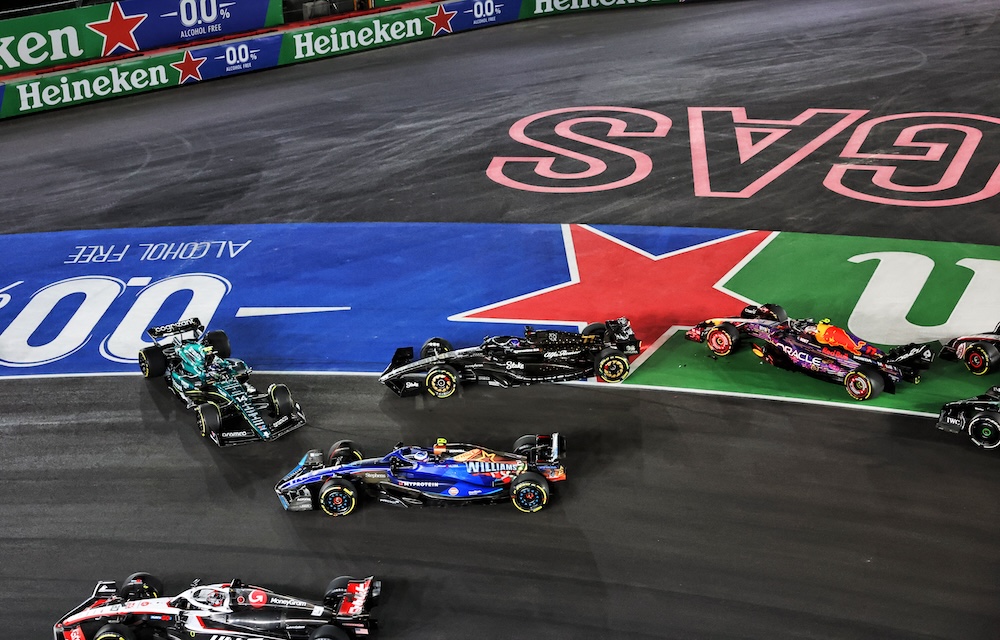 "That probably caused a lot of the crashes into Turn 1."
Other drivers agreed that it was unfair. Pierre Gasly started P4 on that same dirty side and revealed he had already "discussed it already with FIA" and is confident the right changes will be made to prevent a repeat.
Even George Russell, who started in P3 on the clean side of the track, said: "It's not the first time we've seen these historical cars dropping oil. It was pretty shocking to see how bad it was."
What could be done to avoid this?