Whilst Max Verstappen was out there changing F1 history with 10 consecutive race wins, before that Carlos Sainz was himself beating a 2023 record. It's not one that the sport should necessarily be proud of, but as a fan, it was great to see someone else leading the race for a change! 😅
Carlos started the Italian GP in pole position in front of the Tifosi, but after leading the race for 14 laps, he was eventually overtaken by Max and his rocketship Red Bull.
Sainz finished third after a tough and challenging race from the very first lap right up to the chequered flag, and went on to enjoy his first podium in Monza as a Ferrari driver. The dream.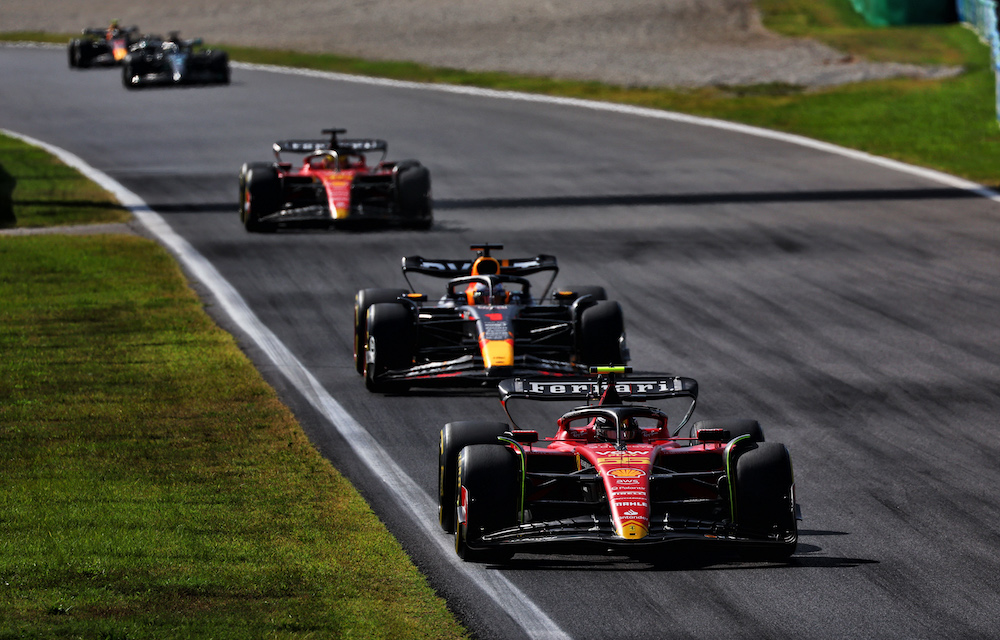 He had never-ending pressure from Verstappen behind him for all of those 14 laps and was able to hold on to P2 in front of Sergio Perez until there were only six laps to go. The speed of the Red Bulls was too much in the end, and he then had to battle for the last podium place against his teammate, Charles Leclerc.
But those 14 laps from the start of the race were actually a record for the 2023 season – the most led by any non-Red Bull driver this year, both in any single race and overall for any driver. Here's a rundown of all the laps led so far.
MAX VERSTAPPEN: 661 
SERGIO PEREZ: 138 
CARLOS SAINZ: 14 
CHARLES LECLERC: 12 
LEWIS HAMILTON: 7 
GEORGE RUSSELL: 6 
LANDO NORRIS: 5
FERNANDO ALONSO: 3 
OSCAR PIASTRI: 1 
Red Bull has led a total of 799 laps out of a possible 847 throughout the last 14 grand prix weekends  – not including Sprints 🤯
Do you think Red Bull could go on to win every race this season? Let us know in the comments!