IT'S BACK 🙌 The WTF1 Annual has returned for 2022, and it promises to be unmissable. With a new set of regulations shaking up the grid, the return of some familiar faces and a silly season to rival any other, PLUS a championship battle between old rivals Max Verstappen and Charles Leclerc, this year has seen it all.
Packed with 128 pages delving into the highs, lows and everything else in between, it is full of race reviews, in-depth features and interviews, as well as fun puzzles and quizzes you come to expect from an old-school annual. Making it the perfect blend of nostalgia meets the future.
Pre-order your copy now, and it will arrive in time for Christmas*!
Perfect as a special memory of this exceptional F1 season, or a gift for the motorsport fan in your life.
Orders are open for a limited time only.  
Price: £15.99, or £14.50 for Team WTF1 Members (price does not include international postage)
View full pricing table – postage is FREE for UK orders!  
All orders come with tracked postage as standard 
Team WTF1 Member's are eligible for an exclusive discount. Find the link to order with the discounted price in the member's area, or in your emails.
* Christmas delivery is only guaranteed for residents of the UK only. Please do not enter a PO BOX address as the delivery will need to be signed for. Full terms and conditions of orders.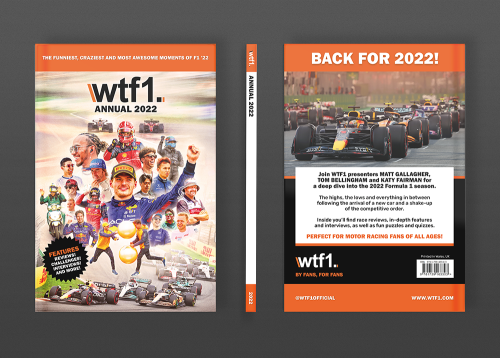 THE 2023 ANNUAL IS NOW SOLD OUT
| Order type | Price |
| --- | --- |
| UK members | £14.50 |
| UK non-members | £15.99 |
| EU members | £14.50 + £10 postage |
| EU non-members | £15.99 + £10 postage |
| US and Australia members | £14.50 + £15 postage |
| US and Australia non-members | £15.99 + £15 postage |
| RoW members | £14.50 + £25 postage |
| RoW non-members | £15.99 + £25 postage |